Every year, your kids have an opportunity to celebrate the Earth through creative science projects. That's right — we're talking about Earth Day! Whether you're planting a tree or practicing how to reduce, reuse and recycle, you and your child can have fun learning about how to support our planet together.
We've teamed up with Jupiter Jen this Earth Day to provide an awesome science project for your family — seed bombs! Seed bombs are small balls of recycled paper and pollinator seeds that you can plant this spring. Besides growing beautiful flowers in your backyard, this seed bombs Earth Day project gives you a chance to discuss the importance of pollination and recycling.
Pollination keeps Earth's species alive, so seed bombs are an excellent opportunity to discuss how. Ask your kids why they think bees and butterflies like flowers. Once you plant the seed bombs, watch as the Earth pollinates! Seed bombs repurpose scrap paper and encourage a healthy ecosystem, making it the perfect Earth Day activity for you and your kids.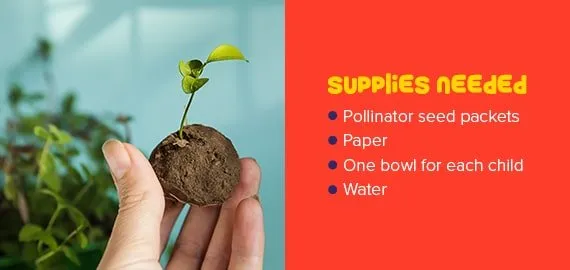 Supplies Needed
Can't wait to get started? This seed bombs activity provides endless fun for your kids, from gathering supplies to watching your flowers grow. Here's what you'll need:
Pollinator seed packets
Paper
One bowl for each child
Water
In the spirit of Earth Day, we recommend finding ways to incorporate recycling into your search for materials. Instead of buying new paper, use junk mail or construction paper scraps to reduce, reuse and recycle.
How to Create Your Seed Bombs
Once you have all the materials, you're ready to begin! Here's how you can follow along with Jupiter Jen during this seed bombs activity for kids:
Cut or shred your paper. You can rip it with your hands or use a paper shredder if needed. Make sure the pieces are small rectangular strips.
Add shredded paper to each bowl and pour enough water to cover the paper.
Let the paper-water mixture soak. The longer, the better!
After the paper has soaked for at least 15 minutes, it should have a pulpy texture. Drain any excess water.
Add a handful of pollinator seeds to the pulp.
Mix the seeds and pulp with your hands.
Form your mixture into small balls. These are your seed bombs!
Let each seed bomb dry in a sunny spot on a plate or clean t-shirt.
Plant the seed bombs in an egg carton until the outside frost passes.
On a sunny day, choose a spot outside to plant your seed bombs and watch as they grow!
Show Us Your Seed Bombs and Enter to Win!
We want to see your results! On April 22, 2022, post a short video or photo of your family's seed bomb project. Make sure to  tag us on Facebook  at @ScienceExplorersInc. We'll pick a winner at random to give away a free week of half-day summer camp!
Practice Earth Day Every Day With Science Explorers
To our team at Science Explorers, Earth Day is an excellent chance to teach your kids something new about our planet. Our  after-school programs  and  summer camps  help your child explore the Earth through STEM projects and skill-building.