A child's elementary school years are  some of the most formative years of their life  when it comes to brain development and education. This learning and growing happens inside and outside of a classroom. Finding fun, creative ways to incorporate science, technology, engineering and math (STEM) principles into daily play at home is one of the best ways to foster a spirit of exploration and excitement in children of all ages.
Building a bridge is more than a STEM activity. When you're building with a child, you open the door to talk about various community helpers and their roles in keeping us safe and moving, including contractors, civil engineers, designers and construction workers. Although a home-built bridge isn't going to support any cars, bikes or trains, this process is a great way to spend the afternoon. This activity is full of academic applications, but your child will have so much fun that they may not even notice they're learning!
Considerations Before Building
Before you start a bridge STEM experiment, take a few minutes to look online at various kinds of bridges. Older children may already be familiar with certain types of bridges, especially if you live in a city or your family travels a lot. Younger children may want to spend time looking at pictures of the different kinds of bridges for inspiration. Online videos can be a great way to show them how different types of bridges operate, especially drawbridges and others with moving pieces.
As you look at different kinds of bridges, ask your child these questions:
Which bridge would you like to build, and why?
How strong should the bridge be? Will it need to support cars or other toy vehicles so they can drive across?
What kind of landscape will you create around your bridge?
What materials might be best to build this bridge?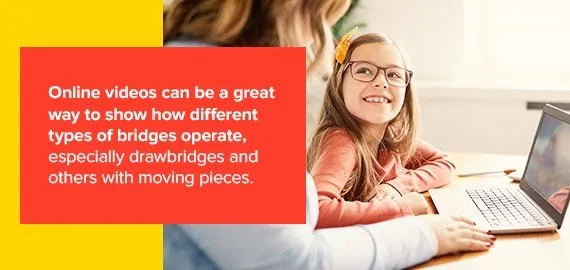 Supplies Needed to Build a Bridge
Your child's answers to the questions above will help determine what kind of materials you'll need for this activity. In general, you'll likely have most of the items you need lying around your house. In fact, we recommend using what you already have because that's part of what makes this a fun, creative process.
To spur your child's creativity, it may help to gather materials ahead of time. Looking at what supplies are available can help with planning and designing. Start by gathering some of the following items:
Crayons, markers and colored pencils for planning and drawing your bridge before you build it.
Tape, glue and paper clips to hold pieces of the bridge together.
Construction paper in various colors, including brown for the bridge itself and blue to incorporate as the water below the bridge.
Assorted building supplies like egg cartons, plastic cups, toilet paper tubes, cardboard, straws, pipe cleaners and popsicle sticks.
Age-appropriate scissors for cutting materials into the correct size and shape.
Ways to Build and Test Your Bridge
Once you've gathered supplies and decided what type of bridge to build, it's time to dive into the activity. But don't start cutting and gluing just yet. The first step to a bridge STEM activity is to create a plan. First, have your child draw an outline of what their bridge will look like. Older children can also write out the steps they will take and which materials they'll need for each part of the process.
While it may not seem like a big deal to write out a plan, this is an important step that shouldn't be skipped. Besides providing a guide for the bridge-building process, this step teaches children how to slow down, make a plan and then carry it out. This ability is essential to the scientific process and many other STEM-related activities and academic instruction they'll learn later on.
Once your child has a plan, it's time to get to work. This is the point in the process where parents might sneak out of the room to answer a phone call or start dinner. While constructive alone time can be a good thing, you may want to resist the urge to leave your child to their own devices. Building a bridge together is about more than the building process — although that's a big part of it. This project offers the opportunity for families to find ways to work together and discover new things.
Depending on the materials you have and the type of bridge your child is building, it's a good idea to test the bridge throughout the process. This is especially important if your child's end goal is to construct a bridge that will support the weight of toy cars or trucks. Parents of younger kids may need to help with cutting out paper for the water underneath the bridge or supervise to ensure the correct amount of tape or glue is in place to secure each component of the bridge.
Even if you've been testing the bridge throughout the process, it's a good idea to have two or three final tests at the end of construction. Help your child set up tests with cars or dolls or whatever they want to use the bridge with, then observe what happens when they put the weight of that object on the bridge. You can even have them record their results and make observations about what caused the results to turn out a certain way.
At the end of the activity, take a moment to discuss the bridge with your child. Is there anything they would do differently next time? What did they learn about the bridge while building it? Though this may seem like a simple discussion, your questions can help lead your child through the final part of the scientific method to analyze their bridge and draw conclusions about the results.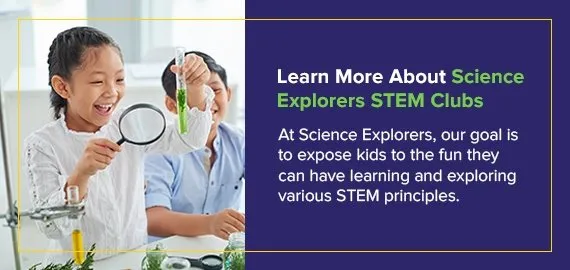 Enjoying Bridge Activities for Kids? Learn More About Science Explorers STEM Clubs
Most kids learn best through a combination of learning and fun. Building bridges with children is a great way to accomplish both. And best of all, it gives parents and their kids a chance to do something fun and creative together. At Science Explorers, our goal is to expose kids to the fun they can have learning and exploring various STEM principles.
Science Explorers maintains a commitment to engaging, entertaining educational opportunities. Our DIY @Home Club Kits and our Virtual STEM Clubs are just some of the ways we're continuing to bring science to kids of all ages and abilities. Browse our website to explore  ways to engage your child in STEM learning  today.